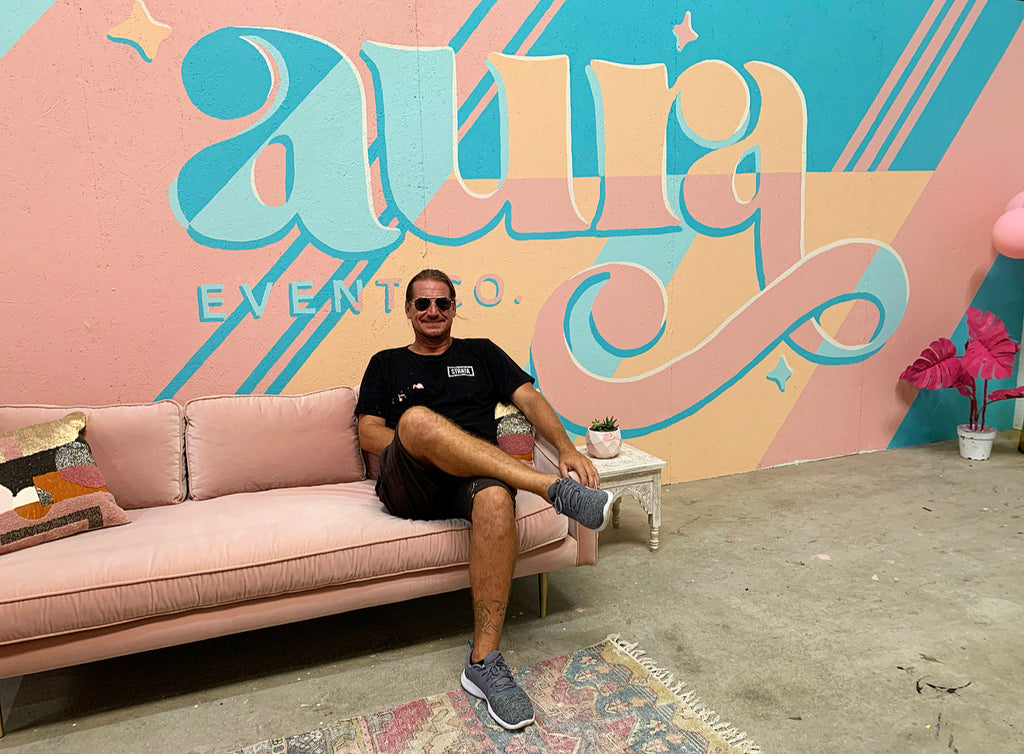 New mural in the house! This one is local to Mayport and is located at Aura Event Co's warehouse. Haven't heard of Aura? Well, anyone who likes to party or has a special occasion coming up needs to follow this company and their amazing custom party designs and rentals!
Owner Kelly Cloninger has been a longtime friend to the Walker's and even Online Sales Associate for Elizabeth Sarah Collections - and seeing her new business blossom has been nothing short of amazing and inspiring. 
Wanting to incorporate her company's theme into her warehouse space (which, yes you can visit for grab and go balloon garlands & good vibes) she envisioned both a mural and custom piece of art to welcome guests and staff.
Sticking with the brands 70's font and sunset-esque color theme, Philip brought to life the party vibes that Kelly envisioned.
Philip completed the custom "Let's Party" piece the week before the mural so it was ready to go as a preview of what was to come. 
He and his team completed the two walls and door design over the course of two days, and I have to say that between the bright color scheme and playful integration of lines and shapes, it perfectly captures Aura's aesthetic. 
Plus it makes for a great photo backdrop and, let's be honest, who wouldn't want that for your insta feed?
This project was so much fun to work on, from getting to pick Kelly's brain and work off her design ideas, to getting inspiration from the pieces around her warehouse and playing with some party props 😉 we loved working with another local business to support and make their vision come to life!